Welcome
Hi, welcome to Warrior Cats Roleplay Wiki! Thanks for your edit to the User:Artimas Hunter page.
Please leave a message on my talk page if I can help with anything! -- Mistfire (Talk) 16:37, May 28, 2011
You did not just insult me on IRC.
You just dropped down a billion levels, Arti. Even I'm not that mean.
At least I admitted to my actions, but you rather listen to people who exaggerated to make sure I was punished far worse rather than myself who told you what happened with rather honesty.
That is shameful.
And then you called me a dickwad and told me I'm the most inhumane person on the planet. I don't ever call you that stuff! I looked up to you, respected you! You lost all my respect now. I don't even care if you make my ban a million years long, you are the only inhumane person here if you would rather say that.
Cowardly, you couldn't say it to my face. You think I'm hurtful? I don't jump around on people and hurt their feelings like you. And I could name a whole bunch of people you've hurt, measly to how many I have.
I'm banning you from this wiki so you can't terrorize people any longer.
Goodbye, Arti.
 Violet  Talk to me!  Edits  Main Wiki   23:48,7/12/2012  23:48, July 12, 2012 (UTC)
Please Stop. Seriously.
Please stop bothering 4pinkbear or I will ban you, Wetty and Forestpaw13. ♥Okami Amaterasu: There will always be a dawn!♥ 17:11, May 28, 2011 (UTC)
Sorry!
I am sorry about what I said, I didnt know the whole story and I was being dumb.
Can you love what you hate? 01:42, August 15, 2012 (UTC)
I have no idea how you got unbanned, but don't talk to anyone here ever again. I don't want you hurting them either. I am done with you, Arti. You thought I was a bitch? Well maybe I am in your and everyone else's eyes, but frankly I'm tired. I've been home sick all day and it SUCKS, so whether you like it or not I'm banning you again.
Have a nice day,
 Violet  Talk to me!  Edits  Main Wiki   23:48,7/12/2012  23:48, July 12, 2012 (UTC)
Arti, this is Vi.
I was talking to Waffy today about the Anon attack. I was shocked and asked him for a link. I saw you guys handled it well.
But then I went on Wolfgame and Stareh started harrassing me, thinking I was the anon. She says I did it out of revenge.
I have a completely different IP address than the anon. She counterclaimed I could've downloaded something to mask the IP.
Arti, why would I do that? I may get mad sometimes but I don't troll sites out of revenge. That's just....dropping a million levels if I did.
But then she told me THIS: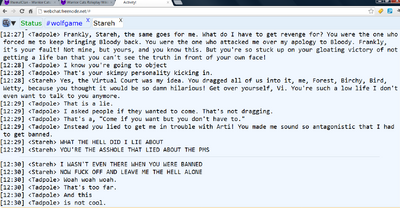 She admitted to lying to get me in trouble for the court, Arti! She lied to get me banned! You thought I was lying but I told you I was giving the honest truth. It's not my nature to lie.
And she still tried to get me in more trouble.
Whether you believe me or not Arti, this happened! And I'm sorry if you don't but I know I'm innocent on both cases. I wouldn't do it, Arti. I just wouldn't.
  Violet <3 Hellfire, Dark fire!   16:37, August 26, 2012 (UTC)
-le sigh-
Arti, my whole point is that I was lied about to be put into more serious trouble.
You got some of it but you didn't get the whole big picture ._.
  Violet <3 Hellfire, Dark fire!   23:04, August 26, 2012 (UTC)
Arti, I'm sorry to bother you again.
But I was playing wolfgame again today (approx. 8:2 PM, Kansas' time, 9:20 for you) when all of a sudden I got a PM from a user sporting the name, "GuessWhoVi". Of course, people call me Vi so that was somewhat stalkerishly creepy o.O
They started pestering me about some "set-up to get me banned at WFW" and then I cxhanged nicks and continued playing Wolfgame. I was a little creeped out but I screenied it for you.
My question is why just now is everyone suddenly attacking me?
What did I do so wrong to deserve it?
Arti, I'm really scared and freaked out.
PLEASE reply soon! D:
Hey Arti,
Do you remember when I sat on IRC with you, trying to help you with the Anon Incident? And then I figured out it's Aspen?
Apparently Bird (from what Wetty has told me) is going around claiming she was the one who found it out to get the credit and fame for it, when I know, and you know, that I was the one who worked my ass off to get it for you Dx
I don't know what to do (since this involves WFW)...
  Violet <3 Hellfire, Dark fire!   03:14, September 9, 2012 (UTC)
No, she didn't help at all! She didn't do anything against the vandal except announce it and steal credit for something I worked hard to do. Even if it makes her feel better I wouldn't EVER, EVER steal credit for something someone else did! That's like me copying and pasting one of your fanfics, Arti, and claiming it as mine!
  Violet <3 Hellfire, Dark fire!   22:05, September 9, 2012 (UTC)
Community content is available under
CC-BY-SA
unless otherwise noted.